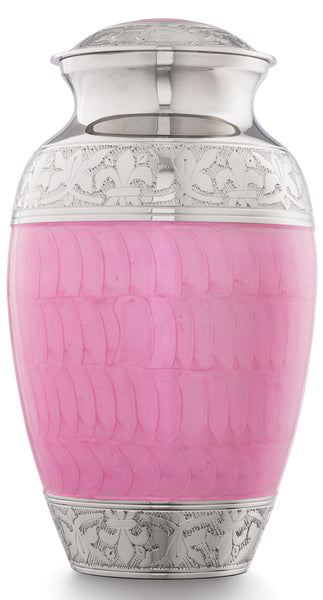 Pink & Silver Engraved Cremation Urn
UrnsWithLove
Pink Cremation/ Funeral/ Remembrance/ Memorial Urn With Embossed Silver Design - Hand Made
Personalisation: You have the option to fully personalise it with the text of your choice, for a little fee or can order without engraving too. For the engraving option please leave us a note in the Additional Comments section before proceeding to the checkout or you can email us at urnswithlove@gmail.com.
Size:            10" (25Cms) approx
Weight:        2-3 Kgs Approx
Colour:         Pink & Silver ( Nickel)
Material :      Brass Metal
Capacity:      Suitable to hold ashes of an adult body weight upto 200Lbs or 90Kgs approx ) 
Ashes of your lost loved ones are securely preserved in this beautiful urn in a peaceful and dignified manner via a threaded lid at the top.
This large cremation urn for ashes is hand casted by skilled artisans from solid brass material and represents the finest possible quality for a memorial at an affordable and accessible price. We are proud to make this beautiful cremation ashes urn available at the lowest possible price in order to allow the bereaved to remember lost loved ones with dignity and peace of mind.
Matching Small Urn / Keepsake is also available which can hold token amount of ashes of your loved ones.
Our prices are inclusive of mainland U.K. delivery.